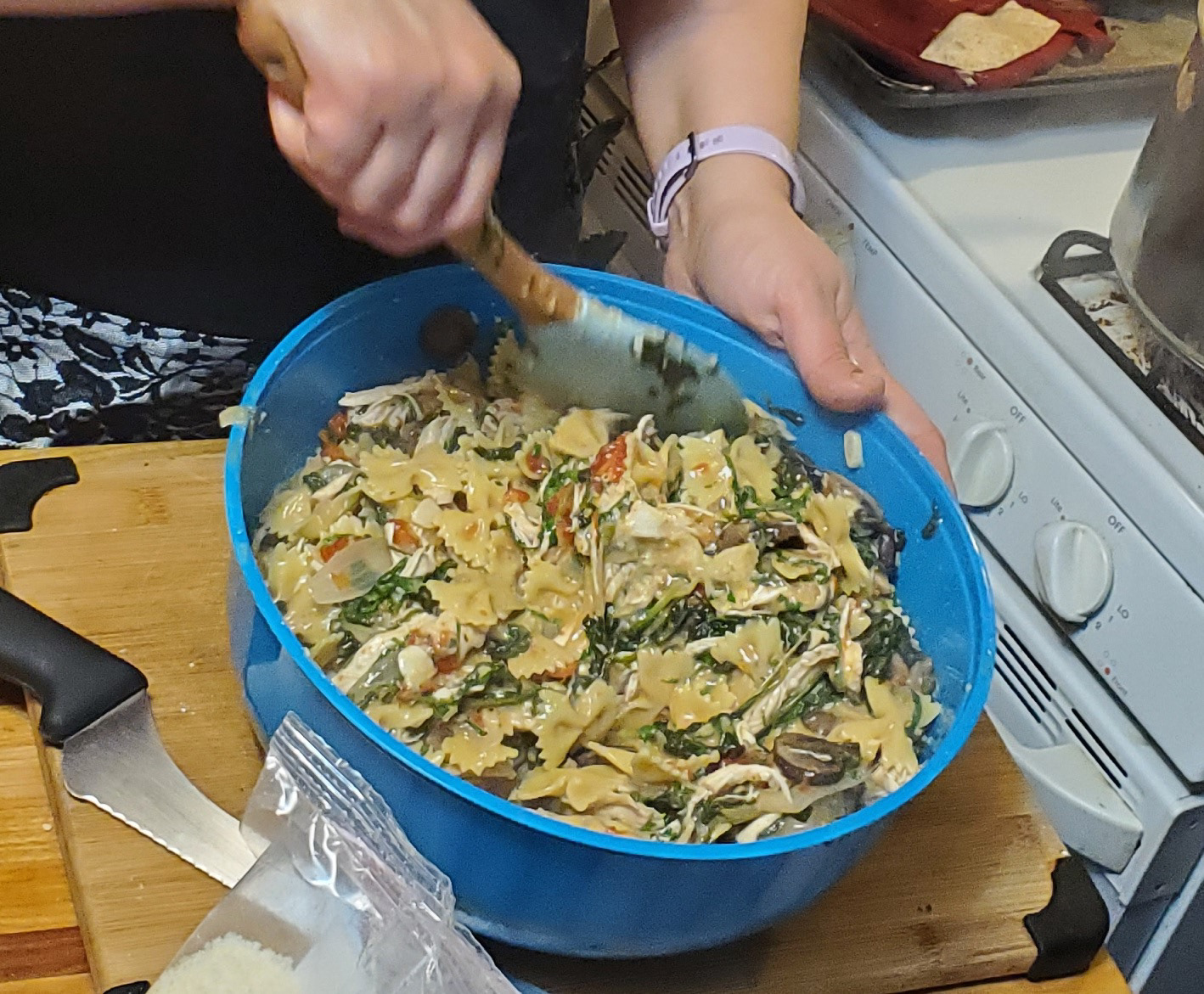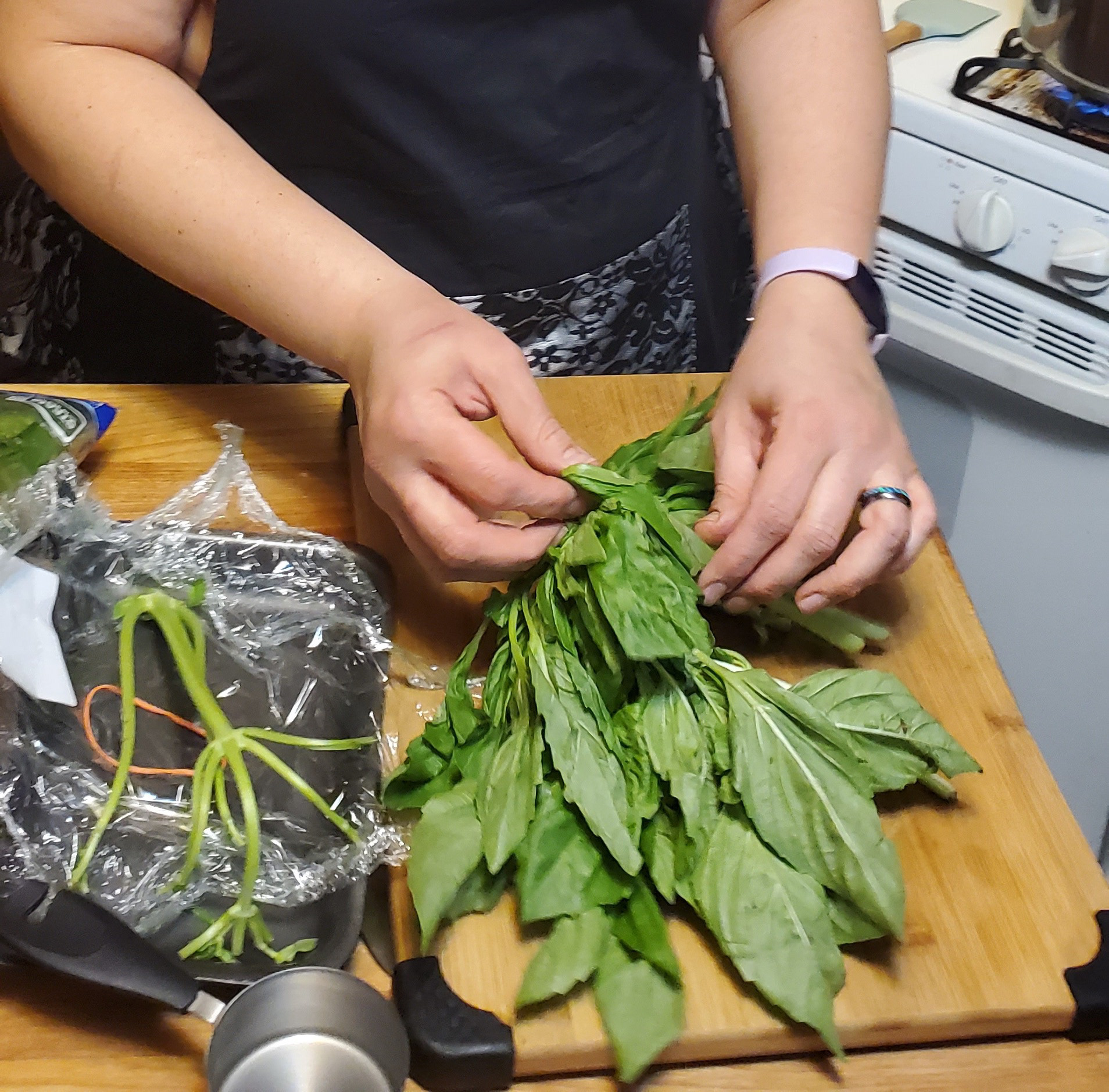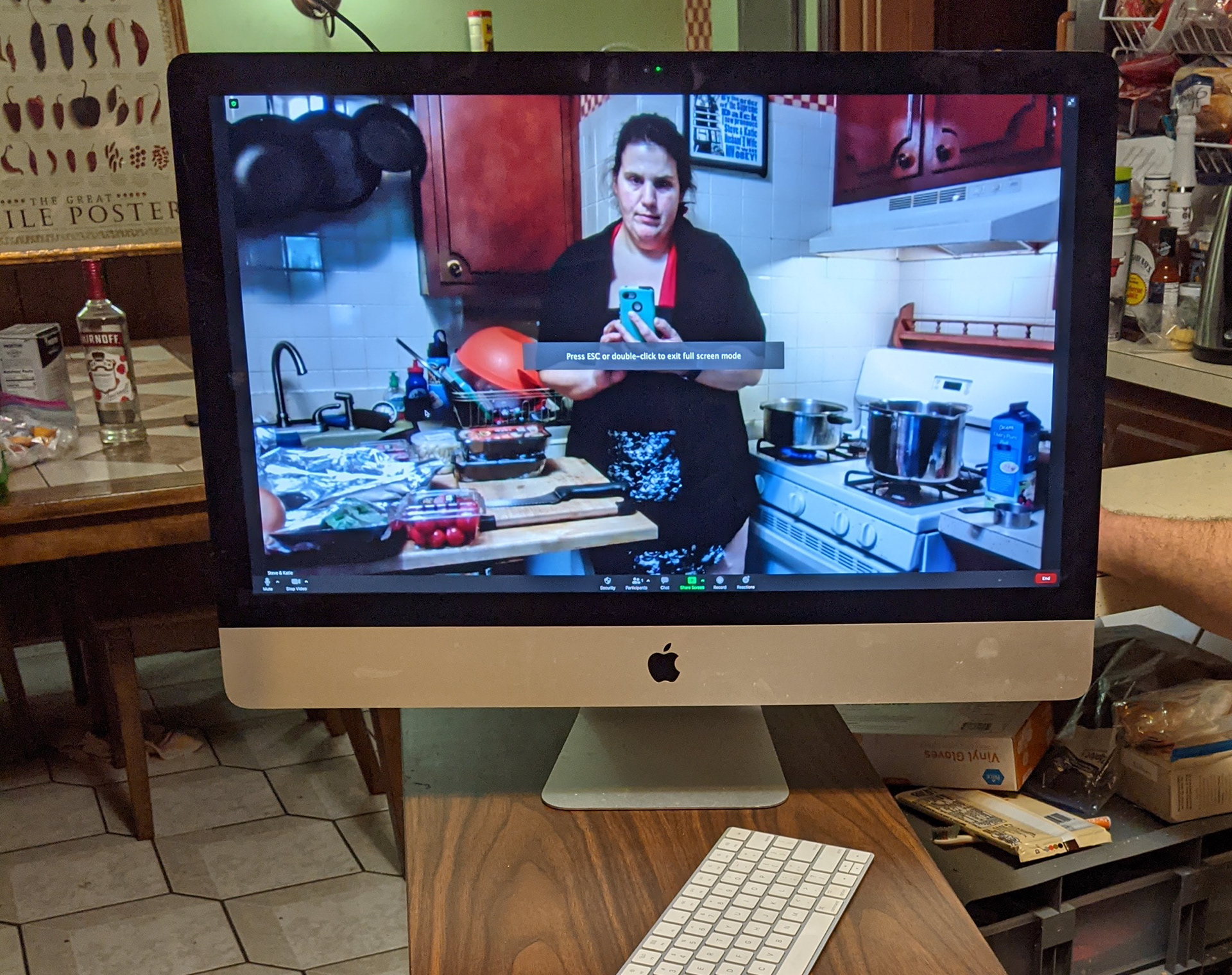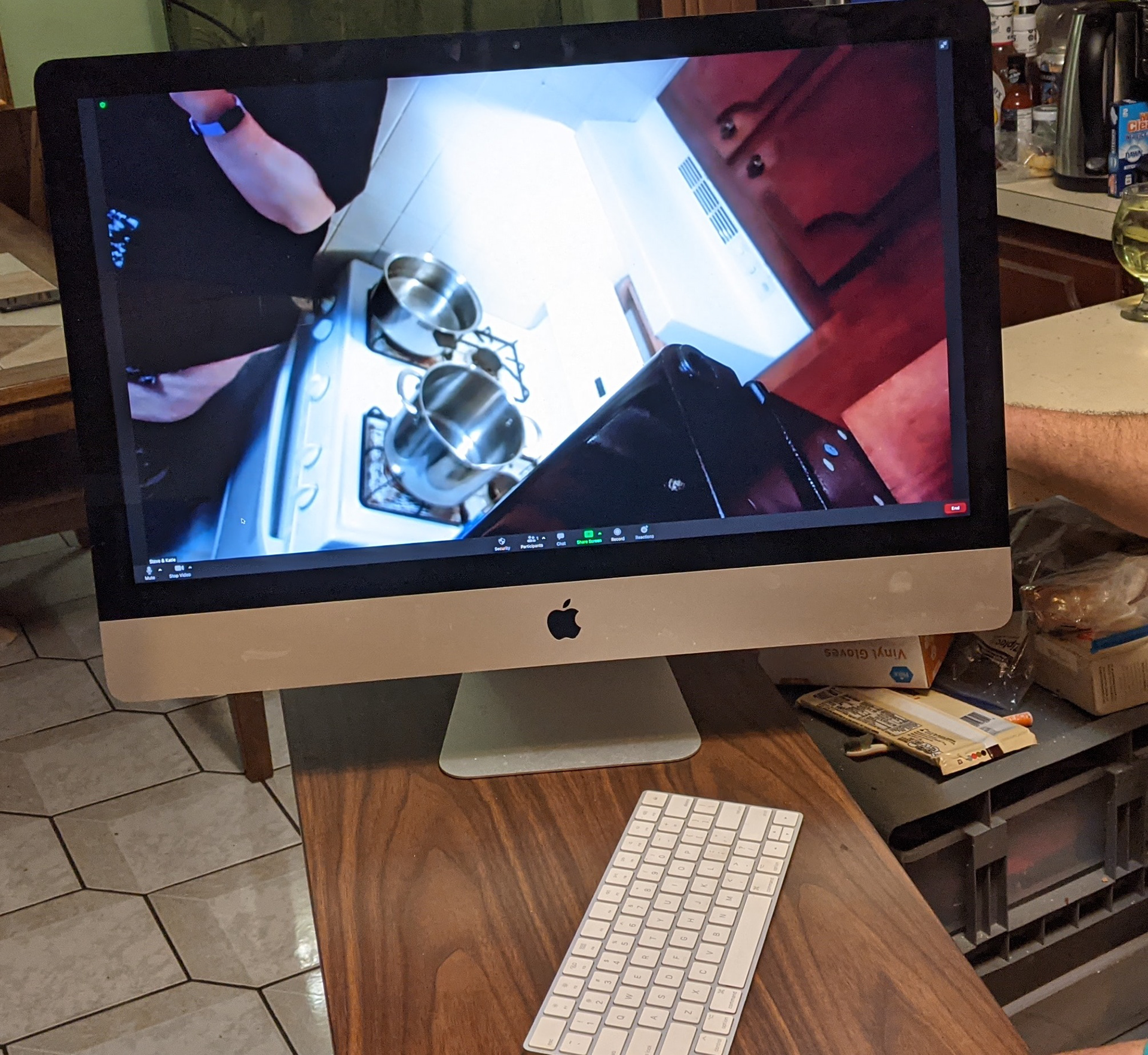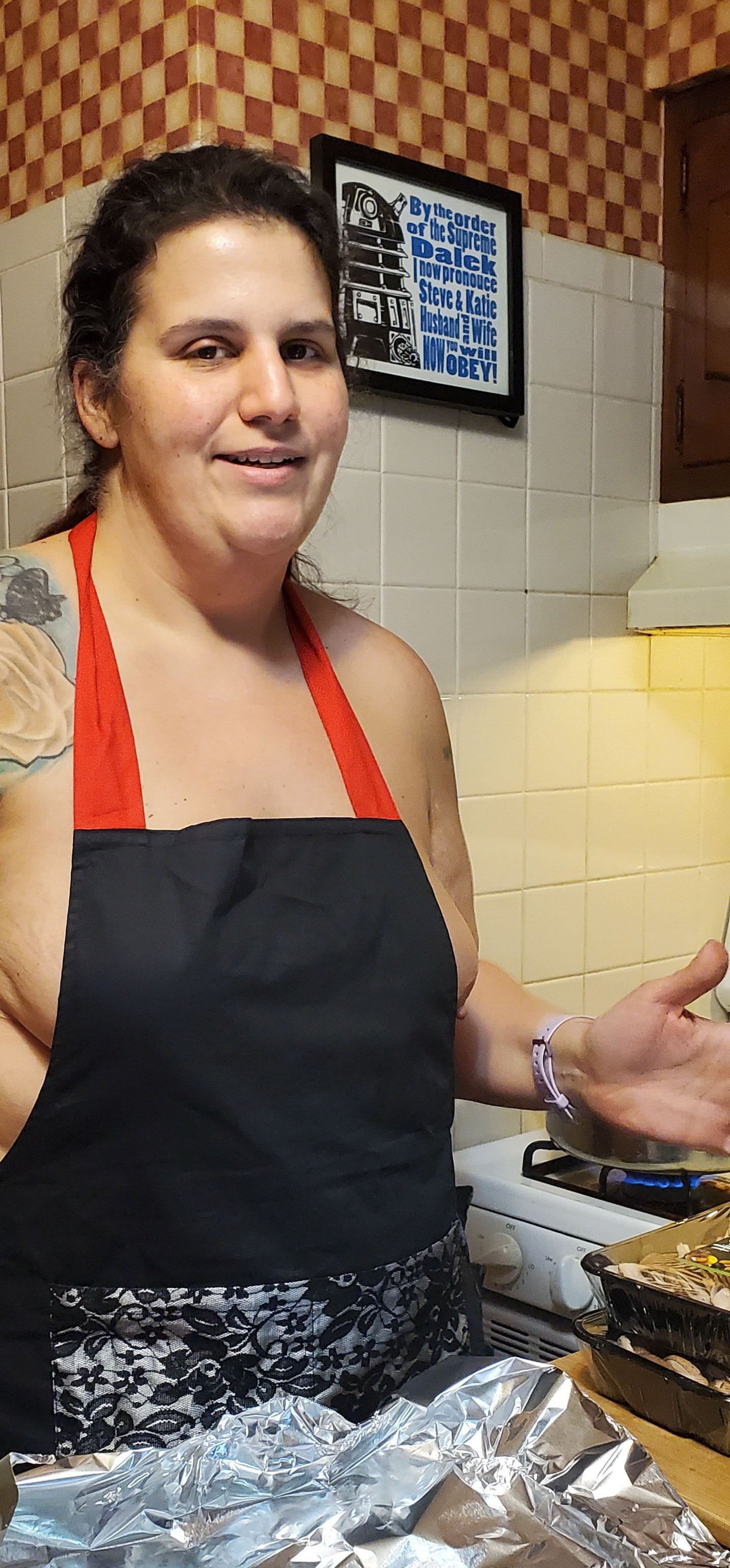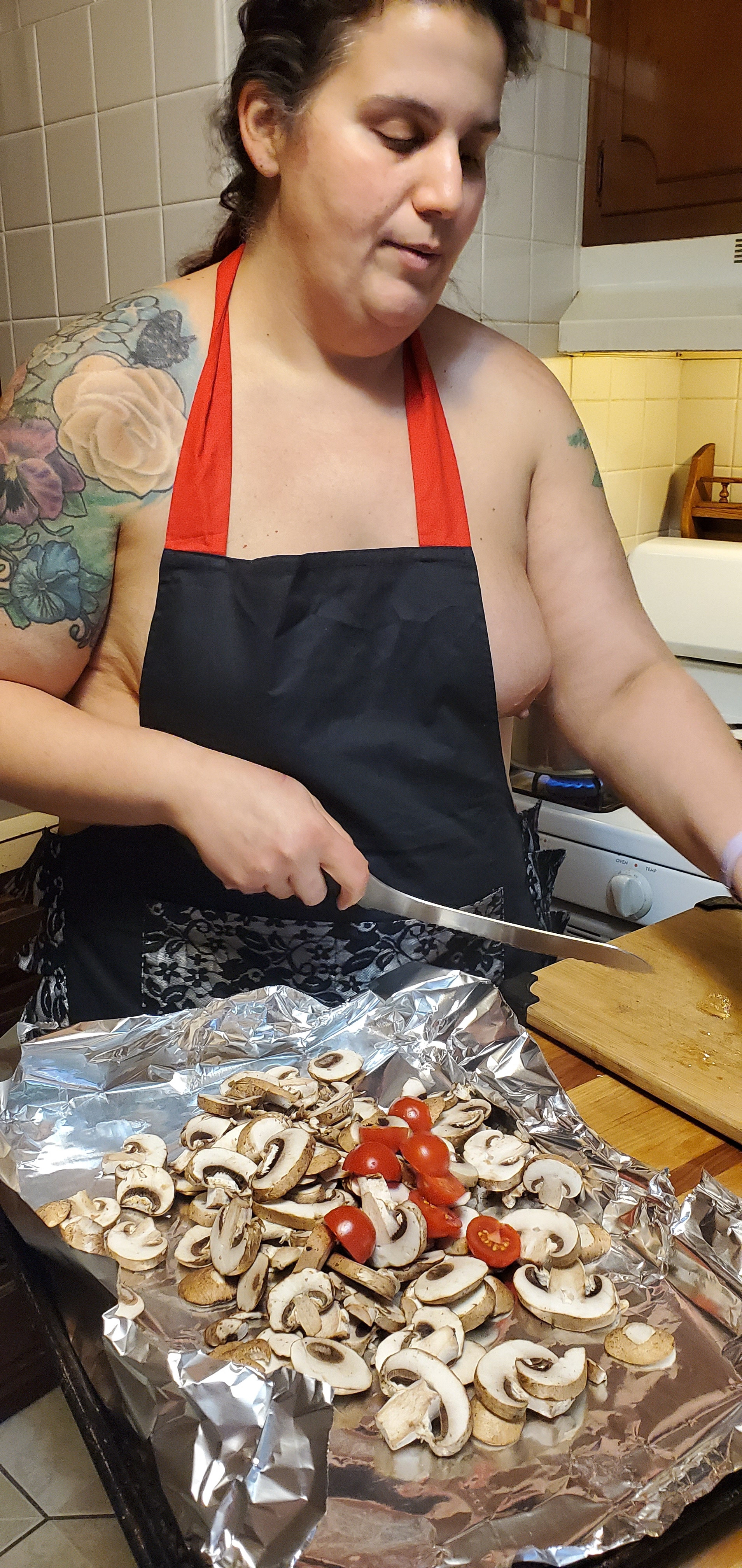 This is a simple, easy and delicious pasta dish.  After you have completed your prep, you will be doing three things at the same time: cooking pasta, roasting vegetables and building your sauce/cooking your chicken.   Total cooking time including prep is about an hour.
1 PINT OF CHERRY TOMATOES SLICED IN HALF
1 PACKAGE OF SLICED MUSHROOMS (BABY BELLA OR CRIMINI)
1/2 YELLOW ONION JULIENNED
1 TABLESPOON MINCED GARLIC (more if you like garlic!)
1 TABLESPOON OLIVE OIL
1 TEASPOON DRY OREGANO
SEVERAL SPRIGS OF FRESH THYME
SALT/PEPPER TO TASTE
Toss all of the above ingredients together and spread out on a baking pan lined with aluminum foil.  Roast in a pre-heated oven at 425 degrees for 20-30 minutes.  You want to evaporate the moisture and concentrate the flavor of the vegetables.  You do not want to burn the vegetables.  Depending on your oven, you might want to rotate your pan half way through.  Once vegetables are roasted, remove from oven and set aside. Remove sprigs of thyme and discard.
1 BOX OF PASTA
In a large pot, boil 6-8 quarts of water.  Add 4 tablespoons of salt.  Once water is boiling, cook your favorite dried pasta.  Bow tie pasta is suggested, but any kind will do.  Cook 1-2 minutes less than the suggested time on the box for true Al Dente.  Stir pasta a couple of times while cooking.
1 TABLESPOON OLIVE OIL OR BUTTER
1/2 ONION DICED
2 TABLESPOONS MINCED GARLIC
1/4 - 1/2 CUP OF WHITE WINE (CHARDONNAY)
1/4 - 1/2 CUP WHIPPING CREAM
1 BAG OF FRESH SPINACH
1 CONTAINER CHICKEN BONE BROTH (1-2 CUPS)
1 BAG OF FRESH SPINACH
1-2 TABLESPOONS CORN STARCH OR ARROWROOT
1/4-1/2 CUP OF GRATED PARMIGIANO REGGIANO AND ROMANO CHEESE
1 BUNCH OF FRESH BASIL, CHIFFINODED
SALT AND PEPPER TO TASTE
1 POUND OF BONELESS SKINLESS CHICKEN BREASTS
Place a large pot on your stove top and put on medium heat.  Add the other half of your onion, diced, at least 2 tablespoons of mined garlic and 1 tablespoon of olive oil or butter.  Sautés onions until they are translucent, about 3-5 minutes.  If your onions start to get color, add the 1/4 cup of wine at this point.  Add 1/2 teaspoon of kosher salt to help the onions cook down quicker.  After your onions are translucent, add the 1/4-1/2 cup of white wine (if you haven't already).  Let it reduce down at least another 3-5 minutes.  Add 1/4-1/2 cup of cream depending on how much fat you want (fat tastes good).  Cook another 5 minutes to let it reduce down further.  Add chicken breasts and then add chicken bone broth until the chicken breasts are covered 3/4 way.  Reduce heat to a gentle simmer.  Cook for 10 minutes, then flip chicken breasts and cook for 10 more minutes.  After a total of 20 minutes remove chicken breasts into a medium size bowl and set aside. Shred chicken.   
Add bag of fresh spinach to the pot.  Stir occasionally and cook for another 5-10 minutes.
To thicken the sauce, add 1 tablespoon of arrow root or corn starch to 2 tablespoons of cold water in a small bowl and stir until fully incorporated.  Add half of the mixture to your sauce and stir as it thickens.  Add the balance of the mixture if you want your sauce thicker.  Once sauce is to the proper consistency add roasted vegetables and stir.  Proper consistency is "nape." Nape means if you put the sauce on a spoon and draw your finger across the spoon, the sauce will remain separated.
Add shredded chicken.  If the chicken wasn't completely cooked, make sure it cooks in the sauce until fully cooked. Add cheese.  Add fresh basil and cooked pasta and toss to fully incorporate.  Enjoy!  Makes 4 servings for regular people, 2 servings for us.